Latest Episode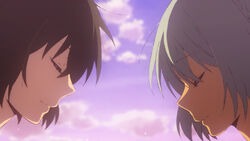 Episode 12: Glad to Be Born Here
The people of the Mud Whale have finally learned the truth about the Marked. As anger and dismay spreads throughout the island, Suou makes a decision.
The individual episodes can be found here.
Poll
What would you rather be?
News
March 13, 2018 - The anime releases worldwide outside of Japan on Netflix.
March 20, 2018 - Volume 3 releases in English
April 6, 2018 - Spinoff short series launches in the Mystery Bonita magazine
May 15, 2018 - Volume 4 releases in English